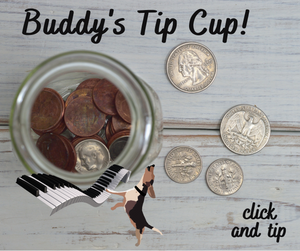 A place to leave Buddy Mercury a Tip if you love his sound!
Enter the dollar amount into the quantity box and add to cart.
Buddy Mercury donates 10% of every tip to shelters that help save animals!

Help spread Buddy Mercury's mission by sharing a video with a friend! AROOOOOOOO!!!!!!! Thank you!!!!!!
2023 donations will support animals in need at the following organizations:

 
Oregon Humane Society
Ventura County Animal Services
Twenty Paws Rescue
Bandaged Paws Animal Rescue
Tampa Bay Beagle Rescue
Southeast Beagle Rescue
Save Our Snoopies Beagle Rescue
A Wing & A Prayer Rescue
Hawaiian Humane Society
Bay Beagle Rescue
Four Footed Friends
Lewis-Upshur Animal Rescue
Over $5000 donated in total from 2019 - 2023! And we're just getting started! Thank you for helping us to support these amazing animal organizations!
#buddymercury